DALLAS – A federal judge imposed what could amount to life sentences on three former leaders of the Holy Land Foundation for Relief and Development (HLF) for illegally routing more than $12 million to Hamas.
"The purpose of creating the Holy Land Foundation was as a fundraising arm for Hamas," said U.S. District Judge Jorge Solis.
He sentenced former HLF Chief Executive Officer Shukri Abu Baker and co-founder Ghassan Elashi to 65 years in prison. Longtime HLF chairman Mohamed El-Mezain, who was convicted only on one count of conspiring to provide material support to terrorists, received the maximum 15-year sentence.
All three men are at least 50 years old. Another defendant, Mufid Abdelqader, 49, was sentenced to 20 years in prison. HLF's New Jersey Office Director, Abdelrahman Odeh, received a 15-year sentence.
While appeals are being prepared, the sentencing hearings end the largest terror financing case in the United States, one which closed the largest Muslim-American charity in 2001. Its significance, however, resonates far beyond the Dallas courtroom and the five men convicted by a jury last November.
The evidence showed that HLF was part of a broad Muslim Brotherhood conspiracy in the United States called the Palestine Committee, which was to serve Hamas with "media, money and men." Those exhibits show the depth of Muslim Brotherhood activity here, which at its height included a think tank in Virginia, a propaganda arm in Texas and Chicago, and a political operation that continues to exert influence today.
It also led to the discovery of a Brotherhood memorandum from 1991 that describes the group's goal in America. It called for a "civilization-jihadist process" and a "grand jihad" that aimed at "eliminating and destroying the Western civilization from within … so that it is eliminated and God's religion is made victorious over all other religions."
The Council on American-Islamic Relations (CAIR) is a Palestine Committee legacy. Last year, the FBI decided to cut off communication with CAIR due to concerns about the evidence showing the organization's Hamas roots.
"Nevertheless, until we can resolve whether there continues to be a connection between CAIR or its executives and HAMAS, the FBI does not view CAIR as an appropriate liaison partner," wrote Richard C. Powers, an assistant director in the FBI's office of Congressional Affairs, last month.
READ MORE: INVESTIGATIVE PROJECT
Gotta love these two radio hosts. CAIR had a cow over this bit you can listen to below. Too bad these guys are destined for extinction with ISLAMObama's Fairness Doctrine chopping block.
The nation's leading Islamic civil rights group today issued a call for San Francisco-based KSFO 560 AM to reprimand two local talk show hosts — and has asked the station's listeners to contact advertisers — following a segment that it says "mocked Islam, misstated Muslim beliefs and cast suspicion on political participation by American Muslims."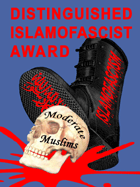 The Council on American-Islamic Relations — known as CAIR — sent out the letter Thursday after The Chronicle Spin Cycle Political blog this week reported on a morning comedy segment by KSFO 560-AM hosts Brian Sussman and his radio sidekick "Officer Vic."
The pair did a comedic segment about Islam and its tenets, and joked that "Islamic finance is about living within your means and helping the needy — unless they're Jews," the blog reported. Additionally, they observed that "the great honorable qualities of that good old time religion: honor killings, female circumcision, not allowing women to drive … Jews are monkeys, pigs."  SF GATE
RELATED VIDEOS: CAIR Nazis