The largest civil-defense exercise since the second Lebanon War in 2006, Turning Point 3, will begin on Sunday and last until Thursday.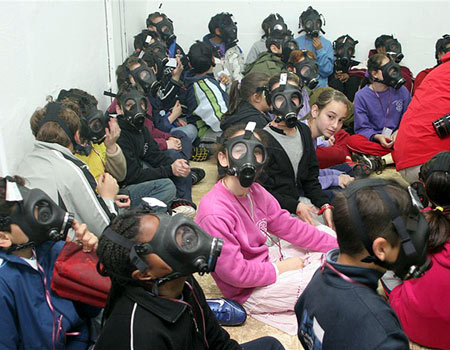 I
srael is facing a "real live missile threat" from surrounding Arab countries and needs to be prepared for possible missile attacks at a moment's notice, Deputy Defense Minister Matan Vilna'i told 
The Jerusalem Post
 Saturday, ahead of the nationwide emergency drill that begins on Sunday.

The highlight will be at 11 a.m. on Tuesday, when air-raid sirens will sound nationwide. Citizens are asked during the siren to enter nearby bomb shelters and protective rooms. The drill will include the evacuation of commercial buildings as well as the IDF and Defense Ministry Headquarters in the Kirya in Tel Aviv.
Government offices and local councils will open 252 "crisis rooms" that will respond to various simulated emergency scenarios. Over 70 foreign government and military officials will arrive in Israel on Sunday to participate in the drill.

"While we do not have any intelligence about an imminent conflict, the potential threat for what we are drilling exists in surrounding Arab countries," Vilna'i told the 

Post

. "The question is whether they will use it and when."

Referring to the Second Lebanon War, when Hizbullah fired 4,000 rockets into Israel and Operation Cast Lead in the Gaza Strip in January, during which Hamas fired some 900 rockets, Vilna'i said, "They can make use of this threat whenever they want and there is nothing we can do to avoid it except to prepare ourselves." He downplayed reports that Hizbullah was beefing up its forces along the Lebanese-Israeli border ahead of the exercise but said that Israel was "watching the movements and acting accordingly."
"As opposed to the past we are not afraid to involve the entire population," he said. "We have nothing to hide and don't want to scare anyone, but it is our obligation to prepare the home front and the public for the various emergency scenarios that exist."

 

JERUSALEM POST
Last Year:
RELATED VIDEOS: Islam and the Jews