IslamoFascist-apologist UK Home Secretary, Jacqui Smith, who banned conservative talk show host, Michael Savage, from the UK is resigning.

GEORGE SOROS FUNDED FAR LEFT EXTREMISTS AT MEDIA MATTERS

will be investigated and possibly prosecuted by Michael Savage's legal team* for providing out of context sound bites that led to Jacqui Smith's inclusion of Savage on the same banned list as Islamic terrorists, murderers and Nazis. 
*According to Michael Savage on his radio broadcast tonight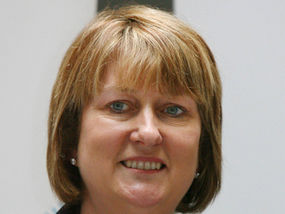 In the wake of scandal over personal use of taxpayer 
funds
 and her controversial ban of talk-radio host 
Michael Savage
, British Home Secretary Jacqui Smith will resign, according to the 
London
 Telegraph.
Smith has indicated she will step down when Prime Minister Gordon Brown reshuffles his Cabinet after this week's local and European elections, the British paper said today.
"As the home secretary has already said, [Savage] was excluded for engaging in unacceptable behaviour by making comments that might provoke others to serious criminal acts and foster hatred that might lead to inter-community violence," he said. The U.K. list also includes Hamas leader Yunis Al-Astal, former Ku Klux Klan grand wizard Stephen Donald Black, neo-Nazi Erich Gliebe and radical American pastor Fred Phelps, known for his virulent anti-gay protests at funerals. Phelps' daughter Shirley Phelps-Roper also is on the list.
But on a BBC radio program today featuring Savage, a barrage of callers reflected public anger over Smith's surprising decision last month to ban the popular American talk host from entry into the United Kingdom along with murderers and terrorists.
Savage said the morning show had planned to take callers for only five minutes, but the segment went on for 30 minutes as phone lines lit up. Callers included a Muslim who said he was opposed to Smith's ban of Savage.
As WND reported, the talk host hired lawyers in London last month to issue a defamation complaint against Smith.  READ MORE: WND  and MICHAEL SAVAGE
RELATED STORIES: 
we-are-all-michael-savage-when-will-our-government-ban-our-free-speech
obama-hater-pastor-manning-crucifies-the-uk-for-banning-michael-savage