A day after US President Barack Obama reiterated his call to stop settlement activity during a speech in Cairo, defiant settlers continued to erect structures in the West Bank, building a new outpost between Migron and Kohav Ya'akov.
At the outpost, named Oz Yehonatan, the settlers built a wooden structure they mockingly called the "Obama Hut," saying it was a sign of appreciation for the US president for his actions that had led to a dramatic rise in the number of outposts.
Overnight Thursday, settlers and right-wing activists once again rebuilt the illegal Maoz Esther outpost that was dismantled on Wednesday by security forces.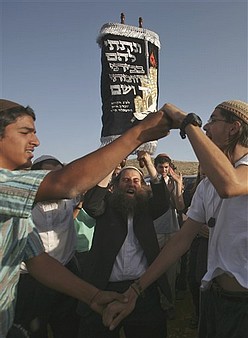 Among the structures erected was a synagogue in which activists placed a Torah scroll dedicated in the name of Yohonadav Hirschfield, who was killed in last year's terror attack at Jerusalem's Mercaz Harav Yeshiva.
One of the activists said of Obama, "He's an Arab Muslim and a gentile, he is fighting against the Jewish people and has declared that he will continue to do so. We already stated our intention to continue to build, no matter who is fighting us – Egypt, Germany or the US."
Among the 200 activists that gathered at the Maoz Esther site was Hebron-Kiryat Arba Chief Rabbi Dov Lior, who explained why peace was impossible in the Middle East. "It's all illusions. With these savages, there was never peace, there is no peace and there will not be peace," he said. "It's not because we don't want it, but because they are enemies of peace. We just have to hope that our entire country is cleared of terrorists, their supporters, their backers and their camels. They should all be sent to Saudi Arabia."
NationalUnion MK Michael Ben-Ari voiced his support for the settlers' actions saying the West Bank's Jewish communities were an established fact that could not be changed.
"Obama, in his audacity, dreams that 350,000 Jews can be removed from Judea and Samaria, but they are a fact that cannot be changed," he was quoted by Army Radio as saying.  JERUSALEM POST
Former Israeli Defense Minister Arens: 'We Must Build Up Settlements.'

(IsraelNN.com) Ex-Defense and Foreign Minister Professor Moshe Arens says, "We must strengthen the Jewish communities of Judea and Samaria even beyond their natural growth rates."
The soft-spoken former Technion professor of aeronautical engineering is not happy with U.S. President Barack Obama's new aggressive approach to Israel. "We're not used to receiving orders from others," he told Arutz-7's Hebrew newsmagazine on Thursday. "We are an independent country. We hear what the president says, but we are not at Mt. Sinai where we respond, 'We will do whatever you say.'"
"Our settlement in the Land of Israel is the basic right of the Jewish Nation," Arens said, "based not only on the Bible and Jewish history, but on international recognition during the times of the League of Nations and the British Mandate."
"I do not accept the terms of 'natural growth.' We are not living in Judea and Samaria because of our 'natural growth,' but because of our natural rights."
"It is incumbent upon us to strengthen the existing communities," Arens said. "We cannot be like our former prime minister, Ehud Olmert, and like Opposition Leader Tzipi Livni, who deny our natural rights, a basis of Zionism, to live in Judea and Samaria." ISRAEL NATIONAL NEWS
As usual, Caroline Glick of National Review Online sums it up best:
Obama claims that this policy will increase prospects for peace. But this is untrue. As Palestinian Authority chairman Mahmoud Abbas made clear in his Washington Postinterview last week, Obama's trenchant campaign against Jewish construction in these areas has convinced the Palestinians they have no reason to be flexible in their positions towards Israel.
Indeed, Obama's assault on Israeli construction and his unsubstantiated, bigoted claim that the presence of Jews in Judea, Samaria, and Jerusalem impedes progress towards peace ensures that there will be no agreement whatsoever between Israel and the Palestinians. 

After all, why would the Palestinians make a deal with Israel when they know that Obama will blame Israel for the absence of a peace agreement?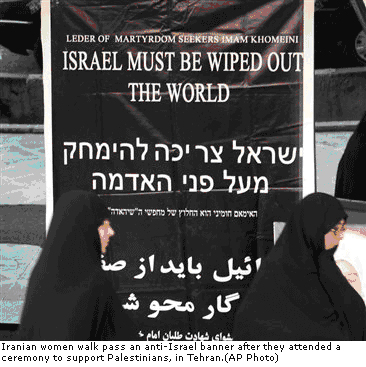 Even more strategically devastating than his castigation of Israel as the villain in the Arab-Israel conflict is Obama's stated policy towards Iran. In Cairo, Obama offered Iran nuclear energy in exchange for its nuclear-weapons program. This offer has been on the table since 2003 and has been repeatedly rejected by the Iranians. Indeed, they rejected it yet again last week. Obama must know that his policy will not lead to the hoped for change in Iran's behavior. And since he must know this, the only rational explanation for his decision to adopt a policy he knows will fail is that he is comfortable with the idea of Iran becoming a nuclear power. And this is something that Israel cannot abide by.
The only silver lining for Israelis from the president's speech in Cairo and his general positions on the Middle East is thatObama has overplayed his hand. Far from bending to his will, a large majority of Israelis perceives Obama as a hostile force and has rallied in support of Prime Minister Binyamin Netanyahu against the administration. This public support
gives Netanyahu the maneuver room he needs to take the actions that Israel needs to take to defend against the prospect of a nuclear armed Iran and to assert its national rights and to defend itself against Palestinian terrorists and other Arab and non-Arab anti-Semites who wish it ill. NATIONAL REVIEW
RELATED VIDEOS: Islam and the Jews