…because the Prophet Muhammad married a 6-year old. Fortunately, the Pakistani police averted this marriage, but how many take place that they never find out about?
Fast forward to 2:50 to see the 'happy' Muslim child bride and groom.
Islam has caused the UK to sanction paedophilia.
PAKISTAN: MUSLIM FORCES 12-YEAR-OLD GIRL TO CONVERT, MARRY HIM
Police ridicule Christian mother for kidnapping complaint; others demand money, labor.
LAHORE, Pakistan, June 4 (Compass Direct News) – The Christian mother of a 12-year-old girl in Punjab Province who was kidnapped, coerced into converting to Islam and forcibly married to a 37-year-old Muslim hopes to recover her daughter at a court hearing next week. The reaction of Pakistani law enforcement authorities to Sajida Masih's complaint so far – ridiculing her and asserting that there is nothing she can do because her daughter is now a Muslim – does not encourage her hopes of recovering her daughter Huma at next Thursday's (June 11) hearing.
Masih said that Muhammad Imran abducted Huma at gunpoint on Feb. 23 from Hanif Kot village in Gujranwala district, forcibly converted her and then married her. Imran, father of three children, has since disappeared along with his first wife, children and new child-bride. Another land owner, Karamat Ali Saroyya, called Masih saying that Huma was in Muridke, but Masih and her lawyer were unable to find her there. Saroyya later demanded that Masih work his fields for one year to get her daughter back. COMPASS DIRECT
15 CHILD BRIDES used to settle Pakistan feud.
It started with a dead dog, escalated into a tit-for-tat tribal war, and has now reached a grotesque climax with the exchange of 15 child brides. Pakistani human rights activists are outraged at reports that a long-running blood feud in a remote corner of western Baluchistan province has been resolved by the handing over of 15 girls, aged between 3 and 10, for marriage.
"There has to be action," said Asma Jahangir, a leading rights campaigner. "These people who force others to sell their daughters must be sent to prison."
The new government in Islamabad, led by the party of the late Benazir Bhutto, has promised to act. "We will not allow young girls to be traded like this," said the information minister, Sherry Rehman. "The culprits who tried to do this will be arrested. The orders have been given." But Jahangir said those orders had not been acted upon.
A dog owned by one tribe, the Chakranis, was shot dead because it strayed too close to a well controlled by their rivals, the Qalandaris. In revenge the Chakranis shot a donkey belonging to the other side. A ferocious bout of tit-for-tat killings ensued in which 19 people, including five women, were killed.
The fighting ended in 2002 when Nawab Akbar Khan Bugti – a rebellious tribal chieftain who was later killed by the Pakistan army – brought the two sides together. Bugti ordered the Chakranis to hand over 15 child brides in compensation; at a jirga, or tribal council.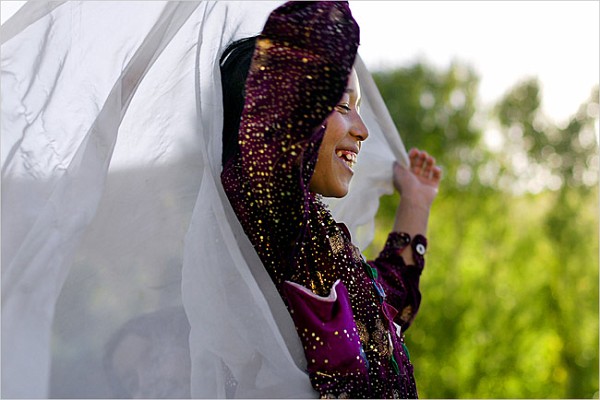 But, despite previous shows of similar anger, official action has lagged far behind. "The government is unwilling to use its authority to protect women. It will find any excuse," said Jahangir.  UK GUARDIAN
RELATED STORIES: forced-child-marriage-in-islam