Palestinian family has killed its 15-year-old son in the West Bank after accusing him of "collaboration" with Israel.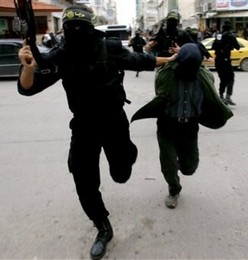 The Palestinian Authority security forces announced that they have arrested a number of the boy's family members in connection with the killing.
PA security sources said the suspects confessed to the killing, claiming that they decided to kill Masalha because of his alleged connections with the Israeli authorities.
Sawalha is the youngest Palestinian to be killed on suspicion of "collaboration" with Israel. Hundreds of other suspected collaborators have also been killed by Palestinians over the past few years.
A preliminary investigation launched by PA security forces revealed that Sawalha had been brutally tortured before he was hanged to death. Gen. Adnan Damiri, spokesman for the PA security forces in the West Bank, said the perpetrators were all members of the boy's family, including the father, uncle and cousin. JERUSALEM POST
RELATED VIDEOS: Islam and the Jews