While Obama is committed to prosecuting CIA agents but can't commit to sending requested troops to Afghanistan, Benjamin Netanyahu tells the world to f*** off if they think they are going to put Israelis on trial for defending their country against Arab terrorists.
Prime Minister Binyamin Net-anyahu insisted in the Knesset on Monday that Israel's right to defend itself must not be jeopardized by threats of international criminal prosecution against its leaders.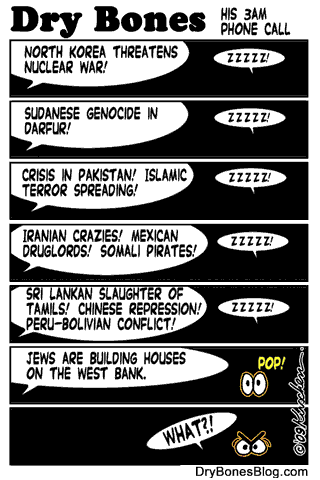 "We will not agree to a situation in which [former prime minister] Ehud Olmert, [Defense Minister] Ehud Barak and [former foreign minister] Tzipi Livni, who sent IDF soldiers to defend cities and civilians, will be called to the defendants' benches at The Hague," Netanyahu told the Knesset as it opened its winter session.
"Israel's basic rights to self-defense and to exist as a Jewish state are under continued attack, which has become even stronger following the Second Lebanon War and Operation Cast Lead. Our first mission is to repel them," the prime minister said as he attacked the Goldstone Report.
"This report, written by the warped [Goldstone] Commission, questions Israel's very right to self-defense. This report encourages terrorism and also endangers peace. I want to emphasize this. Israel will not take chances for peace if it cannot defend herself."
He blasted the report in advance of Wednesday's Security Council debate in New York on the document, which accuses the IDF of possible war crimes against Palestinians in Gaza during its offensive there last winter. JERUSALEM POST
The Palestinian Authority had agreed to defer UN consideration of the Goldstone Report until March. But that quickly changed when Abbas caved to pressure from Hamas and other terrorist groups.PA in turmoil over UN delay
CLICK BELOW TO PLAY VIDEO:
[vodpod id=ExternalVideo.882818&w=425&h=350&fv=config%3Dhttp%3A%2F%2Fwejew.com%2Fflv_player%2Fdata%2FplayerConfigEmbed%2F6279.xml]
And while we're on the subject of 'peace talks' with the Palestinians…Abbas endorses the kidnapping of more Israeli soldiers.
Palestinian leader Mahmoud Abbas, hailed in the West as a moderate and peace partner, suggested last week that the abduction of Israeli citizens will continue in order to win freedom for all of the Palestinian terrorists currently jailed by Israel.
"We will definitely, always and forever, act to free [our prisoners] using all means," Abbas told a gathering of his supporters in Arabic, contradicting years of promises to Western leaders to resolve all outstanding disputes with Israel via diplomacy and negotiations.
Abbas made his remark in response to last week's release of 20 female Palestinian prisoners in exchange for a video tape proving that abducted Israeli soldier Gilad Shalit is still alive. That exchange was used to embarrass Abbas, since it is Hamas that holds Shalit, and has been far more successful in securing the release of jailed terrorists using its more violent methods.
Abbas and the Palestinian Authority continue to demand that Israel free all 11,000 Palestinian terrorists in its jails as part of any final status peace agreement. Abbas and the PA view those terrorists as "freedom fighters" whose act of murder, even against unarmed Israeli men, women and children, were legitimate acts of war. ISRAEL TODAY
RELATED VIDEOS: Islam and the Jews