A senior Palestinian official who has confirmed the large-scale corruption in the Palestinian Authority expects to be killed for exposing the scandals.
Fahmi Shabaneh, until recently the head of the anti-corruption unit in the Palestinian Authority's General Intelligence Service, spoke openly to the Jerusalem Post. He warned that rampant corruption in the PA is likely to result in Hamas taking over the Palestinian-controlled areas of the West Bank, and says he has prepared his own grave because he expects to be killed for his role in exposing financial and administrative corruption and sexual scandals.
"I paid $3,000 to purchase the grave," Shabaneh told the Post over the weekend. "I also ordered a gravestone carrying my name. All I have to do now is add the date of death."
Until recently, Shabaneh was head of the anti-corruption unit in the PA's General Intelligence Service (GIS). He said that he and his men succeeded in exposing dozens of cases of financial, administrative and sexual corruption involving senior PA and Fatah officials.
Shabaneh said that in his capacity as head of the anti-corruption unit, he succeeded in returning millions of dollars to the PA's Ministry of Finance. "I agreed to take the job because I believed in creating good government," he said. "I worked day and night to pursue many cases involving theft of lands and public funds. Because of the nature of my work, I received many threats, but I was never scared, because I always believed in my mission and also because I'm from a large clan that provides me with protection."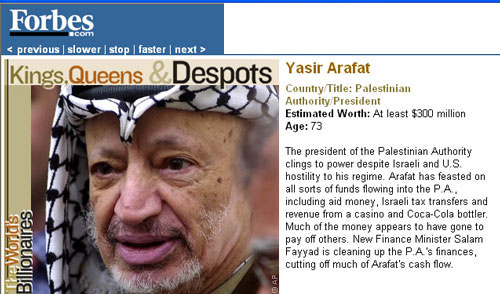 Shabaneh, 49, said he has always been aware of the risks, and all the more so since he chose to speak out through the Jerusalem Post. Shabaneh told the Post that in the coming days he plans to expose "new cases of corruption" in the PA that will "shock the Palestinians and the international community."
"Even [PA President Mahmoud] Abbas won't be able to deny the facts when he sees and hears what I have to reveal," he said. "Everyone should know that many of the senior officials who came from Tunis after the Oslo Accords now have millions of dollars, and palaces." JERUSALEM POST
Massab Youssef, son of Hamas founder Sheikh Hassan Youssef, says Hamas is corrupt to the core, they torture and kill their own people and are holding the people of Gaza hostage. He too, has received death threats.
RELATED VIDEOS: Muslims vs Muslims