(This just in

JAN 29

: Obama does a U-turn suddenly and has agreed to keep funding the 9/11 health fund)
FEB 2:
The previous update was in error. Obama did NOT, I repeat DID NOT agree to keep the $11 billion 9/11 Health Bill. He only agreed to fund $150 million for 2011. Then he'll decide if he wants to fund it any more. SCUMBAG.
JAN 28: New York politicians stunned to find out that Obama is AGAINST funding for the 9/11 health bill.
Hey, NY politicians, you all voted for him. You reap what you sow.
The Obama administration stunned New York's delegation Thursday, dropping the bombshell news that it does not support funding the 9/11 health bill. The 9/11 bill would spend about $11 billion over 30 years to care for the growing numbers of people getting sick from their service at Ground Zero, and to compensate families for their losses.
The state's two senators and 14 House members met withHealth and Human Services Secretary Kathleen Sebelius just hours before President Obama implored in his speech to the nation for Congress to come together and deliver a government that delivers on its promises to the American people.
So the legislators were floored to learn the Democratic administration does not want to deliver for the tens of thousands of people who sacrificed after 9/11, and the untold numbers now getting sick.
"I was stunned — and very disappointed," said Sen. Kirsten Gillibrand, who like most of the other legislators had expected more of a discussion on how to more forward. "To say the least, I was flabbergasted," said Staten Island Rep. Mike McMahon.
The legislators were shocked the idea was falling lower on the administration priority list than other parts of the war on terror and financial bailouts.
LIAR-IN-CHIEF Obama says he'll 'never forget' those sick from 9/11 (But he didn't mean it)

President Barack Obama last week renewed his pledge to help 9/11 first responders who are sick, a campaign promise his staff first made to Downtown Express in October. Obama's words came Friday during a meeting with about 40 family members of those killed on 9/11 and in the U.S.S. Cole attack. Obama spoke, took questions and greeted each of the attendees individually.

When Obama reached Jim Riches, a deputy chief in the F.D.N.Y. whose firefighter son was killed on 9/11, Riches handed Obama his son's mass card. "I said, 'Don't forget them,'" Riches recalled afterward. "I said, 'Remember the firemen who died and the sick firemen.' He said, 'I'll never forget them.'"

Obama's support could be helpful as the U.S. House of Representatives weighs a new 9/11 health bill recently introduced by New York's Congressional delegation, which would reopen the 9/11 victims' compensation fund and provide free healthcare to first responders, residents, students and office workers who can demonstrate health problems caused by the toxic fallout of the attack. House Speaker Nancy Pelosi also supports the measure.LINK
"She made it clear that the administration does not support any kind of funding mechanism that goes into the bill," said BronxRep. Eliot Engel. "I think it's fiscal restraint… but you know what? They find money for everything else, they need to find money for this," Engel said.
"We were attacked because we're a symbol of our country." McMahon was furious that caring for the heroes of Sept. 11 would take a back seat to anything but military funding.
Victims and advocates of 9/11 families are similarly stunned. Lorie Van Auken, whose husband died on 9/11 and who supports the White House in its push to try the terrorists in New York, (that's your first mistake) was crestfallen at the news. "I thought that these people would be taken care of. I would have expected better from this administration," Van Auken said, adding that she thought it sends the wrong message to all of America's would-be heroes that the government won't be there for them. (And you thought they would be? FOOL)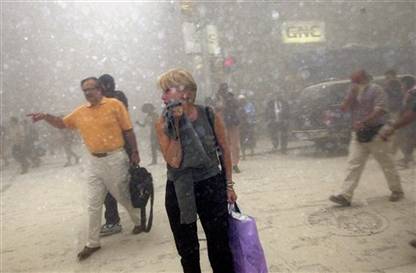 "These people put their lives on the line to help people who live here and who were in danger, and now the government doesn't want to support them," Van Auken said. NY DAILY NEWS H/T Weasel Zippers
RELATED STORIES: 9/11 Censored