Conservative MP in Britain investigated by police for alleged "racial hatred" just because he said that "wearing a burka is like having a bag over your head."
Ragheads. Bagheads. Stupid Dhimmi Brits! It IS like wearing a bag, a GARBAGE BAG over your head. See how you folks like it when Buckingham Palace is turned into a damn mosque.
A Tory MP has been investigated by police for alleged racial hatred after criticising the burka during a Commons debate. Philip Hollobone described the garment as 'the religious equivalent of going around with a paper bag over your head with two holes for the eyes'. Northamptonshire Race Equality Council, which is funded by taxpayers, complained to police.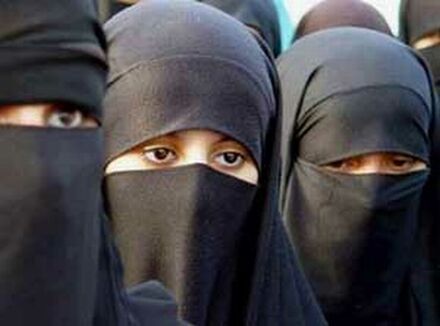 Mr Hollobone said the group wanted to see him prosecuted for inciting religious hatred but the Crown Prosecution Service has decided not to take action. Debates in Westminster are protected by parliamentary privilege.
He insisted he would continue to speak out on a 'perfectly legitimate topic for debate'. 'What we cannot have in this country are MPs being threatened when they speak out on contentious issues,' he said. (Good for him!)
'The judgment of Northamptonshire Race Equality Council is quite wrong in speaking to police as they haven't tried to engage in any debate. I have no criticism of the police – they have behaved impeccably.'
In a debate over immigration on February 2, the Kettering MP said: 'How ridiculous would the House of Commons be if we were all to wear burkas? How would Mr Speaker be able to identify which member to call next?
'In my view, it is offensive to want to cut yourself off from face-to-face contact with, or recognition by, other members of the human race.'
Last month, the council sent the MP a letter criticising his stance. Mr Hollobone said: 'It's complete hypocrisy. They talk on one hand about freedom of speech and expression and then without even making contact try to get me prosecuted.'
Anjona Roy, of the race equality council, said: 'Even though the CPS said there were not enough grounds to proceed, cautionary words were issued. In our view that is a positive outcome.' (Seriously, you need to consider having that stick removed from your butt!)
RELATED STORIES: Islamic Britain