And if he was smart, he would cancel all future meetings with the virulently anti-Israel Obama Regime.
Prime Minister Binyamin Netanyahu will not attend next week's Nuclear Security Summit in Washington and is sending Deputy Prime Minister Dan Meridor instead, Army Radio reported Thursday. (He shouldn't send anyone)
US sources informed Israel that a group of participating Arab countries led by Turkey and Egypt plan to use the summit to demand that Israel sign the NPT (Nuclear Non- Proliferation Treaty) and allow its alleged nuclear capabilities to be placed under international inspection. (Unlike Obama, Israel will not sacrifice its national security to kiss the ass of Muslim terrorists)
THIS JUST IN: REPUBLICANS WELCOME NETANYAHU\'S DECISION TO CANCEL TRIP TO WASHINGTON
Previously, Jerusalem has received assurances from the US administration that it would not let the issue take over the conference, which is to focus on keeping nuclear capabilities out of the hands of terrorists, government sources said. More than 40 world leaders will attend the conference on Monday and Tuesday. Netanyahu characterized as a "very serious issue" the danger that "nuclear weapons, even crude nuclear weapons, could find their way into the hands of terrorists." (They already are in Muslim terrorist hands – Obama has them)
A government source told Army Radio: "Israel participates in the effort to prevent nuclear technology reaching the hands of terrorists, and on this basis we agreed to take part in the summit. But reports surfacing in the last 24 hours indicated the intention of various states to assail Israel regarding the NPT. In summits of this nature, Israel is usually represented on the ministerial and professional levels. The Prime Minister has accordingly decided that Meridor will head the delegation."
In a related development, a senior government official said the government needed to convince the Obama administration that talk about the US imposing a solution to the Israeli-Palestinian conflict was counterproductive, would harden Palestinian positions, and was unrealistic because a solution could not be imposed on the sides if they didn't agree. (But that won't stop the Muslim-in-Chief from trying to impose his plan that will guarantee the future destruction of the State of Israel)
The official's comments came in response to reports on Wednesday in both The Washington Post and The New York Times that President Barack Obama was considering launching an American peace plan in the fall that would replace the step-by-step approach favored by US Middle East envoy George Mitchell. (Stick it up your ass) JERUSALEM POST
Russia Today interviews Slimy Liberal Jew who slams Netanyahu for his decision.
To add insult to injury, America's Islamist-in-Chief denies U.S. travel visas to all Israeli nuclear scientists.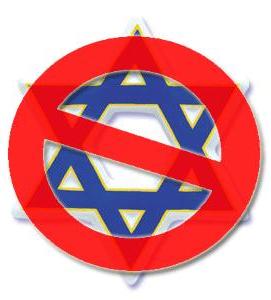 NRG/Maariv (Hebrew) reported today that the Israeli government was stunned when every nuclear technician at Israel's Dimona reactor who had submitted visa requests to visit the United States for ongoing university education in Physics, Chemistry and Nuclear Engineering had their visa applications summarily rejected, specifically because of their association with the Dimona reactor.
This is a new policy decision of the Obama administration. Up until now, it was routine for Israeli nuclear scientists and technicians to receive such visas and to study at US universities.
Israeli security officials have confirmed that these technicians are being denied visas solely because of their employment at the Dimona reactor. Not only are employees at Dimonas taboo, but reportedly the US has an unofficial embargo on selling anything to be used at the site. Professor Zeev Alfasi, the head of Nuclear Engineering at Ben-Gurion University in the Negev stated that "the United States doesn't sell anything nuclear-related to the Dimona reactor, and that means absolutely nothing. Radiation detectors, for example have to be purchased now in France because the USA refuses to sell these to Israel."
Here's the odd bit. Obama and his minions might believe that these sneaky, underhanded Jews are all spies, but in real life, nuclear espionage here in America has only occurred from China or from Obama's friends in the Muslim world…especially Iran and Pakistan. This may very well be a precursor to the denying of visas to Israeli academics, at least on a de facto basis. JOSHUA PUNDIT