Why else would Pamela Geller and Robert Spencer's new group, 'STOP ISLAMIZATION OF AMERICA,' be denied a trademark registration by the U.S. Government?
Can stonings be far behind?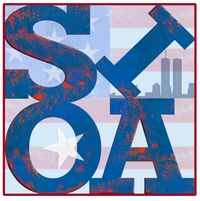 From: ATLAS SHRUGS
It is everywhere, folks, in every aspect of our lives from the big stuff (Major Hasan cover-up) to the minutia (trademark registration).
Take a look at this. Robert and I registered the name Stop Islamization of America for trademark. It was refused — go to this link, read the whole thing. It reads like a page out of Alice in Taqiyaland. The "news" stories they cite would be laughable if it weren't so lethal.
The real question is – how can you stop something that has already happened and continues apace.
U.S. TRADEMARK APPLICATION NO. 77940881 – STOP THE ISLAMIZATION OF AMERICA
The applied-for mark refers to Muslims in a disparaging manner because by definition it implies that conversion or conformity to Islam is something that needs to be stopped or caused to cease. See attached dictionary definition. The proposed mark further disparages Muslims because, taking into account the nature of the services ("providing information regarding understanding and preventing terrorism"), it implies that Islam is associated with violence and threats. See attached dictionary definition.
Accordingly, the applied-for mark is refused under Section 2(a) because it consists of matter which may disparage or bring into contempt or disrepute Muslims and the Islamic religion.
Don't think this is possible? Take a look at Harold Koh, Obama's Legal Advisor to the Dept. of State:
Harold Koh

Obama nominee, Harold Koh,  sees no "reason why sharia law would not be applied to govern a case in the United States.

On top of that, this Obama pick believes that "America's focus on the War on Terror [is] 'obsessive.'" And his list of countries that flagrantly disregard international law highlights North Korea, Iraq, and the U.S.A. — which he collectively calls "the axis of disobedience." READ MORE:

JIHAD WATCH