SYRIA bans the burqa and niqab in universities as backlash against Muslim veil grows.
Syria has banned face-covering Islamic veils from the country's universities. (So why won't America and Britain do the same?)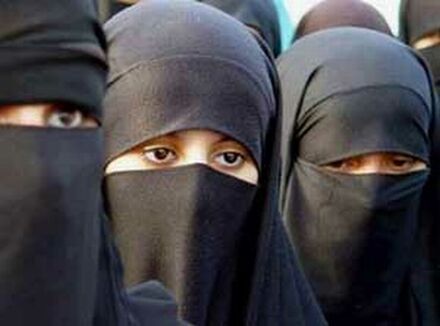 The surprise move comes as similar moves in Europe – including controversial calls in Britain for a ban on burqas – have sparked cries of discrimination against Muslims.
The crackdown was ordered by the secular government in Damascus amid fears of increasing Islamic extremism among young Muslim students.
Syria is not a Muslim country. (It isn't?) An official at the ministry says the ban affects public and private universities and aims to protect the country's secular identity. (Good for them)
Sunday's ban includes women wearing niqabs, veils covering the head and mouth while leaving the eyes exposed, and the head-to-toe burqas, which also cover the eyes with a mesh mask. It did not include the hijab, or headscarf, which many Syrian women wear.
As many as 1,200 women teachers wearing niqabs and burqas are also said to have been transferred out of Syrian schools and universities and reassigned to government offices where they would not come into contact with students.
While plans to introduce a burqa ban in Britain have prompted a fierce debate, most Syrians reportedly welcomed the clampdown. Many are said to be in favour of a wider ban on burqas and niqabs from all public places.
'Hijabs and niqabs have been a symbol of oppression and religious extremism over the past hundreds of years. They have been a tool used by fundamentalist men to repress women,' said Ahmed, a 32-year-old engineer. One passer-by in an upscale Damascus suburb said the burqa to him was like a 'walking black ghost.'
Syria's Minister of Higher Education Ghyath Barakat is said to have told his top officials: 'We will not leave our daughters a prey for extremist thoughts.' UK DAILY MAIL
BURQA BURGLAR
[vodpod id=Video.4103739&w=425&h=350&fv=videoId%3D35443327001%26amp%3BplayerId%3D1418452869%26amp%3BviewerSecureGatewayURL%3Dhttps%3A%2F%2Fconsole.brightcove.com%2Fservices%2Famfgateway%26amp%3BservicesURL%3Dhttp%3A%2F%2Fservices.brightcove.com%2Fservices%26amp%3BcdnURL%3Dhttp%3A%2F%2Fadmin.brightcove.com%26amp%3Bdomain%3Dembed%26amp%3BautoStart%3Dfalse%26amp%3B]
RELATED STORIES:
while-obama-has-endorsed-the-wearing-of-oppressive-muslim-veils-egypt-seriously-considers-banning-them