Shouts of "Close Gitmo, reopen Auschwitz," "Jews behind 9/11," and "Anyone who supports Israel is the enemy of Islam" were heard and equally disgusting signs were held up.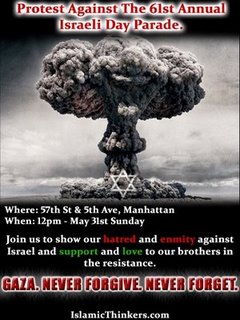 This past weekend the NY based Islamic Thinkers Society crashed the Israel Day Parade in Manhattan. Keeping with their past track record they spewed nothing but hate while calling for the destruction of Israel. 
Thinkers indeed. I think I need to get a gun for the next parade.
Thanks to Chris from: Islam in Action
About all those contributions to the world that Muslims have made, according to Obama, specifically those Muslim Nobel Prize winners he mentioned…
[vodpod id=Groupvideo.2685534&w=425&h=350&fv=]
RELATED VIDEOS: Islam and the Jews