A video being distributed to counter
Obsession
is nothing but Islamist propaganda.
Last year, Islamist anger over the mass distribution of the DVD Obsession: Radical Islam's War Against the West was quite predictable. As is their modus operandi, the Islamist cry focused on victimology and attacking the messenger, while avoiding any real debate over the message of the DVD itself.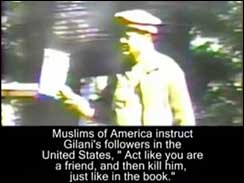 North Carolina proved to be particularly fertile ground for the validation of Islamist woes. One newspaper, the GreensboroNews and Record, flatly refused to distribute the DVD, while another, the News and Observer, "allowed" the paid distribution of free speech but enclosed an editorial board op-ed, which served as an insert warning to readers.
But that wasn't enough for Islamists. Some are now fighting back with their own DVD, entitled The Fog Is Lifting (Part 1): Islam in Brief, produced by an Egyptian nonprofit group, the Bridges Foundation. Some 20,000 copies of the DVD were distributed to three zip codes within Wake County, North Carolina. Bundled in an issue of the News and Observer, the DVD aims to "repair the image of Islam" and is allegedly designed to counteract the Obsession DVD distributed in the same paper in September of last year. While marketed to "explain" Islamic precepts and theology, it does so from only a single point of view. Islamist apologist Omid Safi, a professor of religion at UNC-Chapel Hill, described the DVD as follows:
It's a full-throated defense of the tradition in which Islam is presented as the perfect egalitarian, scientific, pluralistic, modern religion that doesn't have the flaws of all the other religions. … It remains to be seen if it will be seen as preaching to the choir, or if it will succeed in persuading people outside the Muslim community.  PAJAMAS MEDIA
Funny how "The Fog is Lifting" doesn't include any quotes like this from their Islamic holy books:
.
TORTURE
Qur'an 5:33 "The punishment for those who wage war against Allah and His Prophet and make mischief in the land, is to murder them, crucify them, or cut off a hand and foot on opposite sides…their doom is dreadful. They will not escape the fire, suffering constantly."
Tabari VIII:122 Ishaq:515 "The Prophet gave orders saying, 'Torture him until you root out and extract what he has. So Zubayr kindled a fire on Kinanah's chest, twirling it with his firestick until Kinanah was near death. Then the Messenger gave him to Maslamah, who beheaded him."
Qur'an 9:5 "When the sacred forbidden months for fighting are past, fight and kill the disbelievers wherever you find them, take them captive, torture them, and lie in wait and ambush them using every stratagem of war."
Ishaq:550 "The Muslims met them with their swords. They cut through many arms and skulls. Only confused cries and groans could be heard over our battle roars and snarling."
Ishaq:316 "Following Badr, Muhammad sent a number of raiders with orders to capture the Meccans and burn them alive."
Qur'an 8:12 "Your Lord inspired the angels with the message: 'I will terrorize the unbelievers. Therefore smite them on their necks and every joint and incapacitate them. Strike off their heads and cut off each of their fingers and toes."
Tabari VII:133  Ishaq:387 "When Muhammad saw Hamzah he said, 'If Allah gives me victory over the Quraysh at any time, I shall mutilate thirty of their men!' When the Muslims saw the rage of the Prophet they said, 'By Allah, if we are victorious over them, we shall mutilate them in a way which no Arab has ever mutilated anybody."
.
TERRORISM
Qur'an:8:12 "I shall terrorize the infidels. So wound their bodies and incapacitate them because they oppose Allah and His Apostle."
Qur'an:8:57 "If you gain mastery over them in battle, inflict such a defeat as would terrorize them, so that they would learn a lesson and be warned."
Ishaq:327 "Allah said, 'A prophet must slaughter before collecting captives. A slaughtered enemy is driven from the land. Muhammad, you craved the desires of this world, its goods and the ransom captives would bring. But Allah desires killing them to manifest the religion.'"
Qur'an:33:26 "Allah made the Jews leave their homes by terrorizing them so that you killed some and made many captive. And He made you inherit their lands, their homes, and their wealth. He gave you a country you had not traversed before."
Qur'an:59:2 "It was Allah who drove the [Jewish] People of the Book from their homes and into exile. They refused to believe and Allah came at them from where they did not suspect, and filled their hearts with terror. Their homes were destroyed.."
Ishaq:461 "Muhammad besieged them for twenty-five nights. When the siege became too severe for them, Allah terrorized them. Then they were told to submit."
.
JIHAD
Qur'an:47:4 "So, when you clash with the unbelieving Infidels in battle, smite their necks until you overpower them, killing and wounding many of them. Thus are you commanded by Allah to continue carrying out Jihad against the unbelieving infidels until they submit to Islam."
Qur'an:2:190 "Jihad is holy fighting in Allah's Cause with full force of numbers and weaponry. It is given the utmost importance in Islam and is one of its pillars. By Jihad Islam is established, Allah's Word is made superior (which means only Allah has the right to be worshiped), and Islam is propagated. Jihad is an obligatory duty in Islam on every Muslim. He who tries to escape from this duty, or does not fulfill this duty, dies as a hypocrite."
.
MURDER
Tabari IX:69 "Killing disbelievers is a small matter to us."
Qur'an 2:191 "And kill them wherever you find and catch them. Drive them out from where they have turned you out; for Al-Fitnah (polytheism, disbelief, oppression) is worse than slaughter."
Bukhari:V1B1N6 "Just issue orders to kill every Jew in the country."
Ishaq:464 "The Jews were made to come down, and Allah's Messenger imprisoned them. Then the Prophet went out into the marketplace of Medina, and he had trenches dug in it. He sent for the Jewish men and had them beheaded in those trenches."
Tabari VIII:38 "The Messenger of Allah commanded that all of the Jewish men and boys who had reached puberty should be beheaded. Then the Prophet divided the wealth, wives, and children of the Banu Qurayza Jews among the Muslims."
.
JEWS
Qur'an 2:61 "Humiliation and wretchedness were stamped on the Jews and they were visited with Allah's wrath."
Qur'an 33:26 "Allah made the Jews leave their homes by terrorizing them so that you killed some and made many captive. And He made you inherit their lands, their homes, and their wealth. He gave you a country you had not traversed before."
Ishaq:250 "The bestial transformation occurred when Allah turned Jews into apes, despised."
Qur'an 59:14 "The Jews are devoid of sense. There is a grievous punishment awaiting them. Satan tells them not to believe so they will end up in Hell."
Bukhari:V4B56N679 "Allah's Apostle said, 'Plague is a means of torture sent on the Israelis.'"
Qur'an 17:7 "We shall rouse Our (Muslim) slaves to shame and ravage you (Jews), disfiguring your faces.
.
CHRISTIANS
Qur'an 9:29 "Fight those who do not believe in Allah or the Last Day, who do not forbid that which has been forbidden by Allah and His Messenger, or acknowledge the Religion of Truth (Islam), (even if they are) People of the Book (Christians and Jews), until they pay the Jizyah tribute tax in submission. Pay the tax in acknowledgment of our superiority and their state of subjection."
Qur'an 5:35 As for the disbelievers [previously defined as Christians], if they had everything on earth, two times over, to give as ransom for the penalty of the Day of Doom, it would never be accepted from them. Theirs will be a painful torment. They will desire to get out of the fire, but they shall not be released from it. They shall have an everlasting torture."
Qur'an 5:73 "They are surely disbelievers who blaspheme and say: 'God is one of three in the Trinity for there is no Ilah (God) except One, Allah. If they desist not from saying this (blasphemy), verily a grievous penalty will befall them – the disbelievers will suffer a painful doom."
Qur'an 5:77 "Say (Muhammad): 'People of the Book, do not overstep the bounds in your religion, or follow the people who erred and led many astray. Cursed are the unbelievers among the Children of Israel by David and Jesus…. They do vile things, allying themselves with the infidels so that Allah's indignation is upon them and in torment they will suffer for all eternity."
Qur'an 3:56 "As for those disbelieving infidels, I will punish them with a terrible agony in this world and the next. They have no one to help or save them."
.
TOLERANCE
Qur'an 8:59 "The infidels should not think that they can get away from us. Prepare against them whatever arms and weaponry you can muster so that you may terrorize them."
Qur'an 4:168 "Those who reject [Islamic] Faith, Allah will not forgive them nor guide them to any path except the way to Hell, to dwell therein forever. And this to Allah is easy."
Qur'an 33:64 "Verily Allah has cursed the Unbelievers [whom he defines as Christians in the 5th surah] and has prepared for them a Blazing Fire to dwell in forever.
Bukhari:V4B52N260 "The Prophet said, 'If a Muslim discards his religion, kill him.'"
Qur'an 5:51 "Believers, take not Jews and Christians for your friends."
Tabari VIII:130 "The Messenger said, 'Two religions cannot coexist in the Arabian Peninsula."
Qur'an 60:4 "We reject you. Hostility and hate have come between us forever, unless you believe in Allah only.'"
Bukhari:V4B52N288 "Expel disbelievers from the Arabian Peninsula.'"
.
WOMEN
Tabari IX:113 "Allah permits you to shut them in separate rooms and to beat them, but not severely. If they abstain, they have the right to food and clothing. Treat women well for they are like domestic animals and they possess nothing themselves.
Qur'an 33:59 "Prophet! Tell your wives and daughters and all Muslim women to draw cloaks and veils all over their bodies (screening themselves completely except for one or two eyes to see the way). That will be better."
Qur'an 4:15 "If any of your women are guilty of lewdness, take the evidence of four witnesses from amongst you against them; if they testify, confine them to houses until death [by starvation] claims them."
Bukhari:V3B48N826 "The Prophet said, 'Isn't the witness of a woman equal to half of that of a man?' The women said, 'Yes.' He said, 'This is because of the deficiency of a woman's mind.'"
Ishaq:185 "In hell I saw women hanging by their breasts. They had fathered bastards."
Qur'an 24:6 "And for those who launch a charge against their wives, accusing them, but have no witnesses or evidence, except themselves; let the testimony of one of them be four testimonies, (swearing four times) by Allah that he is the one speaking the truth."
The following will happen when
RELATED VIDEOS: Religion of Hate