As BNI has reported before, Muslim men use barbaric acid attacks to inflict unbearable suffering, lifelong disfigurement, and even death on innocent Muslim women, whom they claim to value so highly.
[vodpod id=ExternalVideo.902129&w=425&h=350&fv=]
PHYLLIS CHESLER describes what we are seeing here:
The Arabization or the Saudi-ization of Muslims in Afghanistan, Bangladesh, and Pakistan is the hidden hand behind these acid attacks upon women. These poor girls and women have had their lives ruined; some have been forced to undergo surgery 20-30 times in order that they may see a little, or breathe a bit, hear something, perhaps in order to eat or make themselves understood. They look like…monsters. That was what their attackers wanted to accomplish. To render their faces into self-portraits of their attackers.
Why was acid thrown into their faces? The main reasons are because they dared to reject someone in marriage or because they wanted a divorce. The "jilted" suitors (or husbands) took their revenge in this fashion. If he can't have her, no man will; I will make sure that no man will ever want her." One young girl was gang-raped aftger which her rapists
threw acid on her face. Another committed the "crime" of disappointing her father by being born female, not male. Many were disfigured as a result of a "family dispute."
Thus, the punishment for being born female, for exercising any will of one's own is, Saudi-style, the most horrible punishment. The men tried to make the women loathsome to humanity, to sentence them to painful surgeries, self-hatred, perhaps to lives lived in isolation.
Make no mistake. This tendency to disfigure women–even those who wear the Islamic Veil–is real. And, it might be coming our way if we do not stop the Wahhabi and Salafi influence which is funding our universities in North America as well as the Islamic religious schools.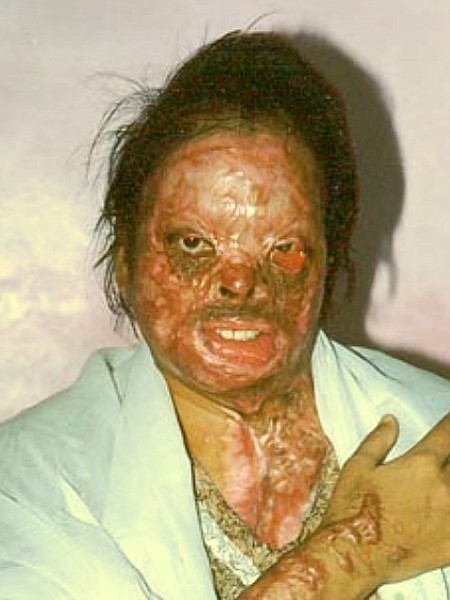 acid-attacks-on-women-and-girls-are-increasingly-common-in-the-muslim-world
what-is-it-about-muslim-men-and-throwing-acid-in-womens-faces
muslim-fathers-vicious-acid-attack-on-his-own-daughter
muslim-on-muslim-terrorism-growing-threat-of-acid-attacks-on-women
afghanistan-acid-attack-victims-demand-justice