Shouts of "Heil Hitler" could be heard among the rants in the crowd of MUSLIM JEW-HATERS.
YNET: A pro-Israel rally in Malmo, Sweden was torn apart Sunday by pro-Palestinian residents who arrived on the scene with eggs, bottles, and tear gas grenades which they threw at Israel's supporters. Police dispersed the entire crowd. Seven hundred people took part in the rally in support of Israel, which was held at the city's main square. It was organized by Malmo's Jewish community and Sweden's Democratic Party.
Protestors carried signs that said 'Stop eight years of Qassams' and 'Peace for children in Israel and Gaza'. The organizers received a police permit for the
demonstration. However, a number of pro-Palestinian protesters who did not have a permit to demonstrate took to the streets in retaliation to the approved rally. They were not dispersed by police despite lacking a permit.

"At some point, about a half an hour after the protest began, pro-Palestinian protesters began to throw eggs, bottles, and even a tear gas grenade," Elad Meier, a Bnei Akiva and Jewish Agency envoy to Sweden, recounted.
Meier added that the lawless protesters disconnected the speakers brought to the square by the Jewish community while its leader was speaking. The act brought the pro-Israel rally to an end, as others could not speak.
That's what these modern day Black-shirts do, intimidate and threaten those with whom they disagree. It's no wonder that the Left and the Muslims and even the neo-Nazis have such so much in common, their MO's are almost identical. H/T TUNDRA TABLOIDS
Swedish millionaire gives 5 million Euros (approx $7 million) to the German anti-Islam party. (Methinks he should give the same to the Swedish anti-Islam party.)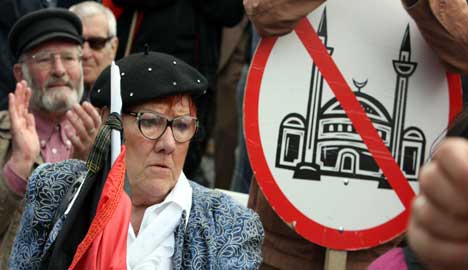 Swedish businessman Patrik Brinkmann has announced he will pour €5 million into the coffers of Pro NRW, an anti-Islam populist party based in Cologne. In a report to air Sunday night on Germany's public broadcaster WDR, Brinkmann says he fears Germany is becoming "too foreign" and that Sharialaw will be introduced in the country.
"However, there are no, or very few, politicians who take this seriously," Brinkmann said. "That's why I believe that a new right wing (in Germany) can not only succeed, but in five or ten years be as large as the FPÖ in Austria or the SVP in Switzerland," he added, referring to Austria'sFreedom Party and the Swiss People's Party, two far-right groups which have enjoyed a certain amount of electoral success. The millionaire, who reportedly already has ties to Germany's extreme-right NPD and DVU parties, will finance a building for Pro NRW to be used as an anti-Islam centre. THE LOCAL
RELATED VIDEOS:
swedish-firemen-risk-their-lives-whenever-they-go-into-muslim-areas-and-its-not-from-the-fires
from-cutting-edge-technologically-advanced-industrialized-nation-to-banana-republic-in-20-years
look-how-muslims-are-destroying-sweden-yes-sweden
sweden-another-country-being-destroyed-by-massive-muslim-immigration