A council-run swimming pool has caused controversy after closing the pool to the public while it hosts Muslim women-only sessions.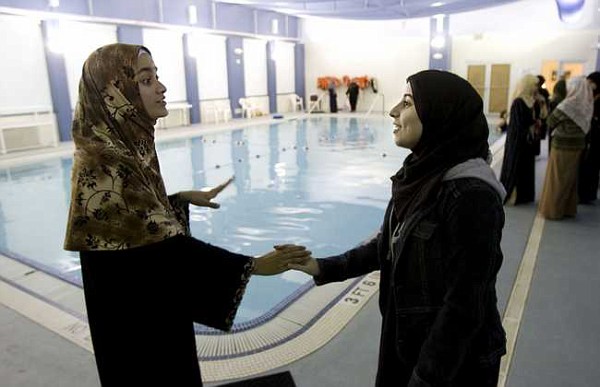 The row broke out after a would-be swimmer arrived at Hull Council's Beverley Road Baths, in Hull, East Yorks., last Thursday but saw a sign at the entrance saying the pool was closed for "staff training". The user, who did not wish to be named, then discovered the council was advertising 10.30am to 12pm on Thursdays on its website as a training period as well as a "Muslim ladies session".
The council admitted it was hosting a long-standing private booking, but the angry swimmer has asked how the group were permitted to swim if the pool was closed for training. He has also accused the council of discriminating against non-Muslims by hosting the unusual Muslim-only sessions.
He said: "If a group of Catholic women objected to using the pool when a group of Protestant women were swimming it would cause consternation.
"If these Islamic ladies had booked a private session in the pool, then why did Hull City Council not simply put up a sign saying 'pool booked for private party', as they do for kids' birthdays?
"What makes this group any different from any other members of the community?" Hull City Council said the sessions were supervised by "casual" staff while other employees "do training or cleaning". A spokesman said: "The council is not providing a service that excludes non-Muslims, but simply hiring a facility privately to a group who happen to be Muslim women.
The group provided its own blinds to increase privacy while in the pool, and when asked whether there was a particular dress code, he said the women swam in costumes.
The council said the manager of the pool was not aware of any complaints being made about the sessions, but a city councillor argued the private meetings could cause resentment amongst other swimmers.
Coun John Fareham, Conservative group leader at Hull Council, said: "If it's been done at a time when the pool is empty that's one thing, but if it's when other people want to use the pool I don't think that creates cohesion. UK TELEGRAPH
Italians say, 'No way.'
RELATED STORIES:
british-swimming-pools-forcing-non-muslims-to-wear-muslim-bathing-attire-aka-burkinis
muslim-woman-banned-from-wearing-burqini-in-french-pool
german-muslims-lose-fight-to-keep-daughter-out-of-co-ed-swim-classes
switzerland-we-dont-care-that-mixed-gender-swimming-is-haram-forbidden