The 8th U.S. Circuit Court of Appeals in Minnesota, in a ruling June 4, threw out 19 of 20 contempt citations that Chief U.S. District Judge Michael Davis had levied against Amina Farah Ali, Somali Muslim convicted terrorist funder, because she wouldn't rise when court was called to order.
Twin Cities  On the first day of her trial on charges of raising money for the terrorist group al-Shabaab, Ali ignored Davis' order to rise, telling him she interpreted Islamic teachings to mean she didn't have to stand for anybody.
The judge disagreed, saying that rising was a show of respect to the legal process and that court decorum demanded she stand. But the appeals court said Ali's refusal "was rooted in her sincerely held religious beliefs," and that Davis was wrong not to consider those before he found her in contempt and sentenced her to 100 days in jail.
The court said Davis' ultimatum to Ali — violate your religious beliefs or face criminal penalties — "substantially burdens the free exercise of religion." Davis should have considered Ali's rights under the Religious Freedom Restoration Act of 1993, a three-judge panel of the court said. The panel told Davis to reconsider his actions and "reach a balance between maintaining order and avoiding unnecessary and substantial burdens on sincere religious practices."
Ali, 35, and co-defendant Hawo Mohamed Hassan, 65, also of Rochester, were convicted last fall of conspiring to raise money for al-Shabaab, a group fighting Somalia's U.N.-backed government. They are awaiting sentencing while in a St. Paul halfway house.
Hawo Mohamed Hassan and Amina Farah Ali caused a stir on the trial's first day in October when she refused to stand when the judge entered the courtroom. Three days earlier, after being told that Ali had remained seated at the start of a pre-trial hearing, Davis had issued an order requiring everyone to stand when court was called to order.
The woman told Davis that the Prophet Muhammad once told a group of followers they didn't have to honor him by standing. She said that if she didn't have to rise for the founder of her religion, she didn't have to rise for anybody.
The judge found her in contempt and said he'd do so every time she refused to stand. He also ordered her jailed. After two nights in jail and after talking to Muslim elders, she rose when court was called to order on the trial's third day.
The appeals court let the first contempt citation stand. It said Ali's attorney, Dan Scott, should have raised the religious objection before his client violated the judge's order.
But Scott said he was pleased with the ruling. "When you get down to it, under the statute the judge has to find … that there's just no reasonable way that he could have order in the court unless she gives up her religious beliefs," he said.
He said Davis erred in believing that he wasn't discriminating against Muslims because everyone was required to stand. (Other Muslims in the courtroom, including Hassan, rose when court was called to order.) 
"The judge was saying that if everybody is equally burdened, regardless of your religion, you all gotta stand up, and if it burdens one religion a little more than another, then that's too bad," Scott said. "But that's not the statute. The statute is accommodation."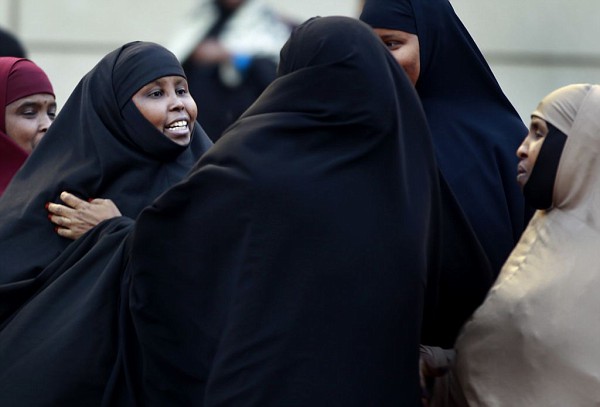 Jason Marisam, an assistant professor of law at Hamline University School of Law who has lectured on the free exercise of religion in constitutional law, said the tension between the secular and religious often winds up in court. 
"It's understandable that a judge would take offense when a party refuses to stand when the court is called to order. It's called the rising requirement and it's supposed to show respect for the court system," he said. "But some feel that showing respect to a secular institution doesn't respect their religious beliefs."
The 1993 law "exempts religious believers from having to comply … unless the government has a compelling reason," he said. "Here, the question is whether this symbolic showing of respect is a compelling reason. Generally, these symbolic things are not compelling reasons."