Even after Hosni Mubarak banned the barbaric practice of FGM four years ago, upwards of 90% of girls are still being mutilated in Egypt. And now that the Islamic fundamentalists of the Muslim Brotherhood are in power, we can expect that number to increase.
Mothers say FGM is necessary so girls don't touch themselves "down there." Or even worse so cousins (future husbands) won't touch them "down there." The cruel practice involves cutting off the clitorises and mutilating of the labia of young girls. It is carried out with the specific purpose of making sex painful for the girls. It is claimed that this will ensure the 'purity' of a girl before and throughout marriage.
The women who perform FGM do it for money, are often not medically trained, and don't even sterilize their instruments. The lack of hygiene frequently leads to infection, sepsis and even death for the girls.
RELATED STORIES/VIDEOS:
islam-sanctions-female-genital-mutilation-of-young-girls-because-it-is-part-of-human-nature
egypt-hosni-mubarak-banned-female-genital-mutilation-but-now-the-muslim-brotherhood-is-trying-to-make-it-mandatory
france-devout-muslims-jailed-for-genital-mutilation-of-their-four-daughters
mayo-clinic-fires-female-genital-mutilation-supporting-muslim-pediatrician
british-muslim-leader-caught-on-camera-advocating-for-female-genital-mutilation
britain-cant-figure-out-how-eliminate-the-barbaric-practice-of-female-genital-mutilation
horrifying-muslim-girls-forced-to-undergo-female-genital-mutilation-with-no-anesthetic
listen-to-the-horrors-of-female-genital-mutilation-as-performed-on-young-british-muslim-girls
complete-guide-to-female-genital-mutilation-yes-its-a-muslim-thing
muslim-indonesia-issue-new-guidelines-for-genitally-mutilating-little-girls
clit-cutters-rejoice-iraqi-kurdish-imam-says-female-genital-mutilation-is-a-recommended-practice-of-islam
egypt-13-year-old-girl-dies-from-female-genital-mutilation-fgm
female-genital-mutilation-illegal-in-many-countries-it-is-more-popular-than-ever-in-the-muslim-world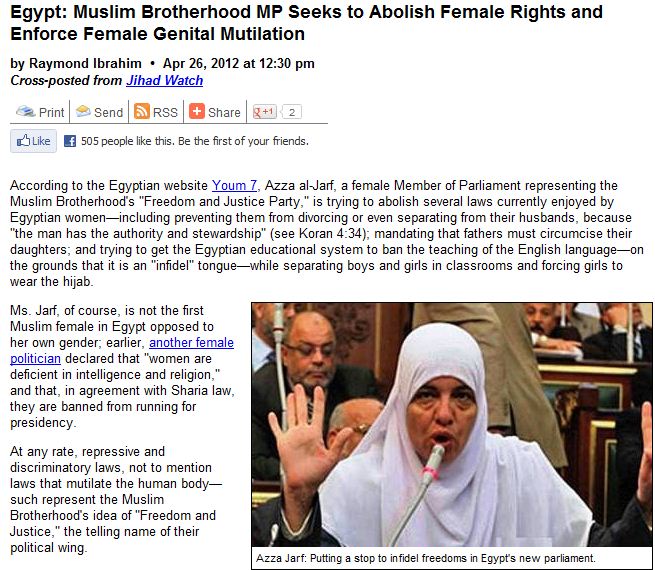 And it isn't just in Egypt